Seacon's developments and SWAM, FleetHealth projects are in the B2B session.
Horizon Europe Cluster 5: Climate, Energy & Mobility Brokerage Event on 16-17 February 2023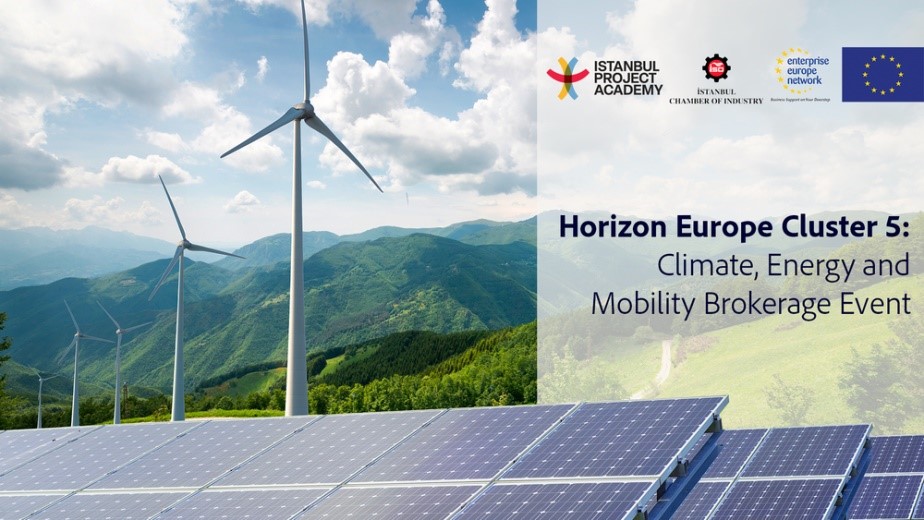 Within the scope of the EC Horizon Europe Work Programme, Istanbul Project Academy is organizing a networking and brokerage event - focusing on the 2023-2024 calls for proposals from the Work Programme of "Cluster 5: Climate, Energy and Mobility" jointly supported by Enterprise Europe Network and Istanbul Chamber of Industry.
The main objective of the event is to gather all the relevant stakeholders intending to apply for funding, supporting the development of consortia and project ideas.
Main focuses of the Cluster 5: Climate, Energy and Mobility;
Destination 1: Climate sciences and responses
Destination 2: Cross-sectoral solutions for the climate transition
Destination 3: Sustainable, secure and competitive energy supply
Destination 4: Efficient, sustainable and inclusive energy use
Destination 5: Clean and competitive solutions for all transport modes
Destination 6: Safe, Resilient Transport and Smart Mobility services for passengers and goods
More than 500 participants have registered including universities, R&D institutions, business companies, associations, authorities and published nearly 300 business and collaboration opportunities for this event.
Seacon staff also participated in the B2B section of the event with the company's related projects, where they talked about cooperation and further development opportunities with Turkish, French, Italian, Dutch, Polish and UK partners
The higlighted topics at the meetings were the following:
Climate science and solutions
Industrial competitiveness in transport
Clean, safe and accessible transport and mobility
Smart mobility