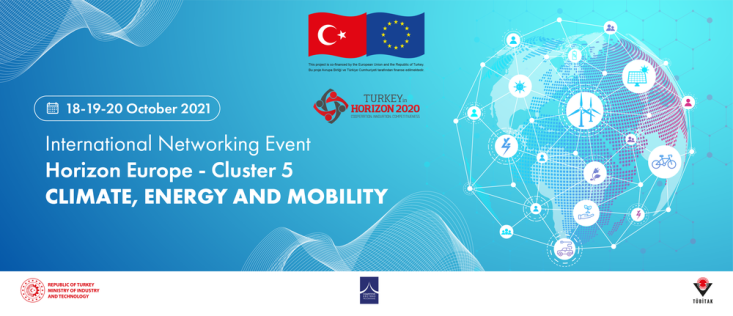 Seacon's projects in the B2B session.
Horizon Europe Cluster 5 Climate, Energy, and Mobility International Networking Event.
The International Networking Event organised by the Scientific and Technological Research Council of Turkey (TÜBİTAK) in cooperation with Sabancı University and ARGEMIP under the "Turkey in Horizon 2020 Phase II" Technical Assistance Project which is co-financed by the EU and the Republic of Turkey and implemented by the Republic of Turkey Ministry of Industry and Technology within the scope of Competitive Sectors Programme.
The event organised as an on-line event and will be held on 18, 19, and 20 October 2021.
The event will cover most of the Horizon Europe Cluster 5 calls that are open during the event time and will be opened soon.
The three day networking event will cover informative sessions about the call topics, pitching sessions for the presentation of ideas & competences and finding partner alternatives for consortiums and one-to-one partnering meetings.
The event aims at bringing together participants from Europe and Turkey, coming from both research and industrial communities working in related fields. This will not only give the unique opportunity to connect with Turkish and European researchers to discuss Horizon Europe Cluster 5 project ideas, but also get first-hand information about the upcoming calls. This event will be an excellent platform to expand the partnernetwork and create new partnerships for the upcoming calls.
Seacon staff also participated in the B2B section of the event with the company's 3 running Eureka and Eurostars projects, where they talked about cooperation and further development opportunities with Turkish, Spanish, Slovak, French and Maltese partners. Climate change, energy, mobility and transport, as well as self-driving vehicles, were key topics. The issues of water management, water treatment and wastewater were discussed, but the application of museum measurement technology was also brought to the fore by one of the negotiating partners.
The event was attended by 456 participants from 32 countries.